***EDDYSTONE CAFE REUNION***
***60th Anniversary Eddystone Cafe***
What a fantastic afternoon that has been! Thanks to all the people who joined our reunion event.
A big thank you goes to our sponsors:
Booker Wholesale - for providing most of the BBQ products
MagicSeaweed - for promoting our event on their website
Paper Straw Party Shop - for donating paper straws
Jaegemeister - for providing a few marketing items Special thank you goes to these individuals:
Zoja Kubiny - our chief graphic designer of ALL our marketing materials
Emma Wavish - for providing old photographs
Jennifer Gordon - for providing old photographs
Mike Wallace - for providing old photographs
Norma Jenkins - for bringing her photo album to share with everybody
Natalie&Alice Shekhdar, Robyn Holmes - for their help with setting up the place
Katy Frith and Lara Caglayan - our cafe staff for supporting us at our event. Thanks for complimenting on our choice of music. It made everyone jolly :-) The food was excellent - thanks to the BBQ King Jim Shekhdar, the sun was out, the youngest generation was having a great time building memorable sandcastles, the memories and stories were shared. Hopefully this will go down in Eddystone Cafe's history.

Thank you very much again and see you next time.
Nina&Jim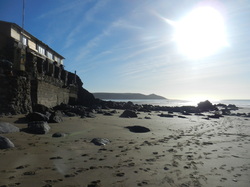 Eddystone Cafe is located on the best surf beach on the South Coast at the bottom of Tregonhawke cliff, Whitsand Bay in the 'forgotten corner' of Cornwall, We have an MSW webcam mounted on the front wall so that the sea and surf conditions can be viewed live during daylight hours.
The cafe is seasonal and we will open on 24th March for the Easter Holidays.
Otherwise we are open every sunny weekend during the winter season. The RNLI bought the surf hut next door last year so from May to October we are assured of safe bathing plus sympathy and hot water for anyone stepping on a weaver fish!

The management and menu for 2018 is planned to be upgraded with tasty lunchtime specials as well as the standard beach cafe fayre and the best, (only) chips for miles around!
We were badly hit by the storms in January & February 2014 but should have completely got over that and be a better place to visit.


WHAT'S NEW......
We've upgraded our patio - see the gallery below. We also introduced FunDay Sunday events every first Sunday of the month. In 2018 we're planning to run more adventurous activities and provide excellent cafe service including tasty specials, popular BBQs and good old favourites - and a bar.
You can follow us on FB https://www.facebook.com/EddystoneCafe


---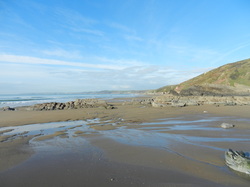 The Beaches of Whitsand Bay are fabulous - and NEVER crowded - access is quite hard work and car parking facilities extremely poor, except for our guests - with Council Wardens descending upon unwary motorist who leave even part of a wheel on the road between May and September!
Approximately 5 miles of beach is exposed at low tide and a lot of them are washed clean twice a day - there are many paths down the cliffs to the beaches but some people do get cut off occasionally so please bring your common sense with you - tide tables are available in the cafe and our apartments!
---
Adventure Bay Surf School
- does not only provide lessons for all levels but also, coasteering, and equipment for sale or hire, including Surf Boards, Wetsuits, Body Boards, Skim Boards, and Sit-on Kayaks. Next year we hope to provide SUPs and probably hand gliding from the adjacent cliff top.
---